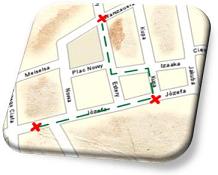 An Adventure
Is it at all possible to experience a real adventure within your city limits?If you are bored with paintball, quads, bungee jumping and you would like to challenge yourself by solving puzzle that requires some smartness, logic, observance and ability to link facts – you are in the right place!
City games project connects people who are creative, imaginative, and prefer spending time outdoors.
City game
City game is a contemporary version of games such as "hare and hounds" aka chalk chase, popular for instance among scouts. Each next task and riddle leads a player or his team to next selected locations. An integral part of each game are elements of architecture of the location it's taking place at. Plaques, monuments, peculiar front elevation elements, signboards and street names – all these might be turned into a hint on solving the next riddle.
Mobile applications
To diversify fun you are having, City Games Creator introduces a new element - mobile application for smart phones and tablets. This provides opportunities to use whole new range of technical novelties such as: audio/video player, camera, GPS, gyroscope, accelerometer and elements of extended reality.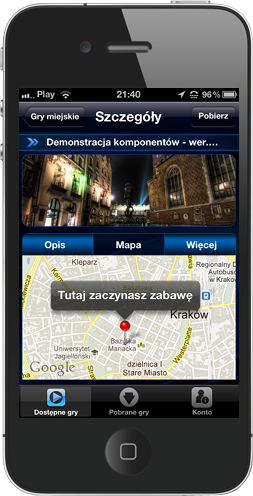 Download application for iPhone:

Dowload application for iPad:

How it works?
City Games Creator is a comprehensive solution allowing to prepare and play city games. It consists of an administrative panel accessible via web browser, and a mobile application for smart phones and tablets. Each game consists of tasks that must be completed and each task is built with components. Components are basically bricks that the game is built with. Some of the components, such as text or image, are simple other more complicated e.g. sonar or nitroglycerine. Each game is unique and one of a kind because the components can be mixed and matched to meet scenario's unique requirements. Author's imagination is the only limit.
The creator on our website is used to build scenarios. The creator is an advanced tool that can be used to create any game. Ready-made scenarios are available for a mobile application. What's worth remembering, is that most downloaded games can be played offline. Find out more how the games are created with City Games Creator.